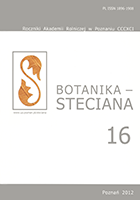 Rok wydania – 2012 Liczba punktów – 5 Ilość artykułów – 12
Małgorzata Klimko, Mariola Truchan, Zbigniew Sobisz
Anther and pollen morphology of native and alien species of the genus Heracleum L. (Apiaceae) in Poland.
Magdalena Kluza-Wieloch
Biology of fructification – qualitative changes of achenes in common sunflower (Helianthus annuus L.) during their ripening.
Alojzy Przemyski, Renata Piwowarczyk
Biscutella laevigata L. in the Polish Uplands – new data on its distribution from Nida Basin.
Bartosz Piwowarski, Alojzy Przemyski
Occurrence of Liparis loeselii (L.) Rich. in the Małopolska Upland (South Poland).
Iwona Dembicz, Piotr Zaniewski, Łukasz Kozub
"Puszcza Słupecka" Nature Reserve near Warsaw as an example of a young forest abundant in ancient-forest species.
Bożenna Maciejczak, Joanna Czerwik-Marcinkowska
Contribution to the algae, cyanobacteria and vascular plants of the "Szmaragdowe Lake" in the Kadzielnia Reserve.
Joanna Czerwik-Marcinkowska, Grzegorz Vončina
Algoflora and vascular flora in the eutrophic fens of the Pieniny National Park (South Poland).
Sofia Celewicz-Gołdyn, Ilona Boryca
The phytoplankton community in the permanent pond of the Dendrological Garden, Poznań University of Life Sciences in springtime 2011.
Adam Stebel, Stanisław Rosadziński, Grzegorz J. Wolski, Monika Staniszek-Kik, Ewa Fudali, Lucjan Armata, Mirosław Szczepański
Further spreading of Orthodicranum tauricum (Bryophyta, Dicranaceae) in Poland.
Ewa Fudali
Ecological assessment of the changes in the moss flora of the glacial cirques in the Polish Karkonosze Mts during XX century.
Anna Matwiejuk, Kamila Korobkiewicz
Lichens of Narew and its surroundings (Podlasie, North-Eastern Poland).
Dariusz Kubiak, Agata Bobińska
The lichen biota of Warmia and Mazury Forest Arboretum in Kudypy (North Poland).
Recenzenci (Review Board) Botanika - Steciana 16
HALINA BEDNAREK-OCHYRA (W. Szafer Institute of Botany, Polish Academy of Sciences, Kraków)
MIROSŁAWA CEYNOWA-GIEŁDON (Nicolaus Copernicus University, Toruń)
JULIAN CHMIEL (Adam Mickiewicz University, Poznań)
WŁADYSŁAW DANIELEWICZ (Poznań University of Life Sciences)
ANNA FILBRANDT-CZAJA (Nicolaus Copernicus University, Toruń)
HANNA GOŁDYN (Institute for Agricultural and Forest Environment, Polish Academy
of Sciences, Poznań)
RYSZARD GOŁDYN (Adam Mickiewicz University, Poznań)
PIOTR GÓRSKI (Poznań University of Life Sciences)
MARIA HERBICH (University of Gdańsk)
MAGDALENA JANYSZEK (Poznań University of Life Sciences)
PIOTR KOSIŃSKI (Poznań University of Life Sciences)
ANNA KOZAK (Adam Mickiewicz University, Poznań)
MARTIN KUKWA (University of Gdańsk)
LUDWIK LIPNICKI (University School of Physical Education, Gorzów Wielkopolski)
ANNA MATWIEJUK (University of Bialystok)
RYSZARD OCHYRA (W. Szafer Institute of Botany, Polish Academy of Sciences, Kraków)
PAWEŁ PAWLIKOWSKI (University of Warsaw)
MARIUSZ PEŁECHATY (Adam Mickiewicz University, Poznań)
DOROTA RICHTER (Wrocław University of Enviromental and Life Science)
ANNA RUSIŃSKA (Adam Mickiewicz University, Poznań)
ELŻBIETA SZELĄG-WASILEWSKA (Adam Mickiewicz University, Poznań)
DOROTA WROŃSKA-PILAREK (Poznań University of Life Sciences)
MARIA ZAJĄC (Jagiellonian University in Kraków)
Rada Naukowa Serii - Botanika - Steciana
MICHAYL F. BOYKO (Kherson State University, Kherson, Ukraine)
JAKIW DIDUCH (Botany Institute of the Ukrainian Academy of Sciences, Kiev, Ukraine)
MAŁGORZATA KLIMKO (Poznan University of Life Sciences, Poznan, Poland) – (przewodnicząca)
DARIUSZ SZLACHETKO (Gdansk University, Gdansk, Poland)
PAUL WILKIN (Royal Botanical Garden, Kew, UK)
Komitet Redakcyjny Wydawnictwa
ROMAN JASZCZAK, MAŁGORZATA KLIMKO, JOLANTA KOMISAREK, ANDRZEJ MOCEK, WALENTY POCZTA, BARBARA POLITYCKA,WŁODZIMIERZ PRĄDZYŃSKI, WALDEMAR UCHMANN (przewodniczący), JACEK WÓJTOWSKI